Company's Concept was include into the emblem
We have added our Company's concept into the logo to represent we will continue to work towards our goal.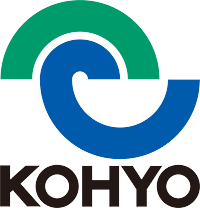 Company's Emblem
Logo
KOHYO SPIRAL WAVE
---
Green for the Mother Earth, Blue for the sky and the ocean, clean atmosphere, wind and clear water is the power of the Earth.

Theme "The Earth and the Company"

Nature provided life for human to live……
We are living in an era where company should grow in the same rhythm as the nature.
In this generation, we should be kinder to the nature. The logo represent our company to keep this policy.

Upper arc
Represent nature, ocean and the environment. Also symbolize the base of our company's growth.
Lower arc
Represent motions, like the waves and winds etc. It is symmetrical to the upper arc and symbolize the movement of the energy and extend to the outside.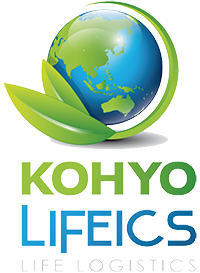 Livelihood Support Company
Second logo and Second name
KOHYO LIFEICS GLOBAL LEAF
---
KOHYO makes a good and lively living environment for people cooperate with the nature.

Target to become the livelihood support company
Our concept is develop our business in harmony with the local community.
"Life" is used to represent extensive community, and "Logistics" is used in military word for backup support. Powell, the former US Defence Secretary Won the Gulf war because he believed back up support to the front line, where condition is tough, can lead to victory. Support such as food, weapons, soldiers etc. provided hope to people. "Logistics leads to victory".